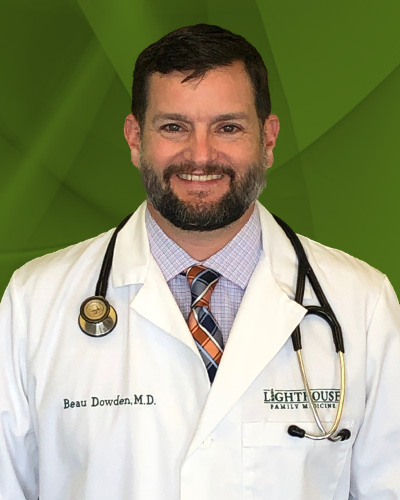 Beau Dowden, M.D.
---
Beau Dowden, M.D. is a 2003 graduate of Indiana University School of Medicine. In 2006, he completed his residency training at Memorial Family Medicine Residency Program in South Bend, Indiana, and is Board Certified in Family Medicine. He has been providing Family Medicine and Urgent Care services in Fort Gratiot since August 2006. Dr. Dowden enjoys Family Medicine because it gives the opportunity to develop lasting relationships with patients of all ages, as well as to see multiple members of the same families. He provides treatment of acute illnesses and management of chronic conditions, while placing an emphasis on preventative health. He also has a special interest in doing office-based procedures. Dr. Dowden enjoys spending time with his 3 children, going to church, outdoor adventures with his dog, Tennessee, and cheering for Notre Dame Football.
---
Joshua Adams, M.D.
---
Joshua Adams, M.D. graduated from the University of Tennessee College of Medicine in 2008. He completed his undergraduate degree at Olivet Nazarene University in Bourbonnais, IL, and his family medicine residency at Martin Army Community Hospital in Fort Benning, GA. He is Board Certified in Family Medicine. After residency, Dr. Adams served in the United States Army with the 10th Mountain Division at Fort Drum, NY. He enjoys providing medical care to families across the lifespan, from newborns through geriatrics. Dr. Adams and his wife Sarah have three children and have moved to the Fort Gratiot community to be closer to family, raise their children, and enjoy all that this region has to offer. He also enjoys hunting and fishing and is active member of his church. His faith is a crucial element to why and how he practices medicine. Dr. Adams is excited to accept new patients and build new relationships in the community.
---
Charli Souza, FNP-BC
---
Charli Souza, FNP-BC, received her Bachelors of Science in Nursing from Pensacola Christian College in 2014. She has worked the last five years as Registered Nurse, beginning her nursing career at Baptist Hospital in Pensacola Florida where she realized her love for the Intensive Care Unit. She moved back home to Michigan in 2017 with her family and began working for William Beaumont Hospital of Royal Oak in their Neuro Trauma ICU, as well as Ascension St. John in their ICU float pool. Her passion for serving others encouraged her to pursue further education, and she received her Masters of Science in Nursing as a Family Nurse Practitioner from Herzing University in 2019. She is board certified by the American Nurses Credentialing Center and is committed to providing compassionate patient-centered care to all of those at Lighthouse Family Medicine. Charli and her husband, Irineu, have been married since 2014 and have two children. They enjoy attending Woodside Bible of Chesterfield, cookouts with friends and family, staying active, and spending time with loved ones.
---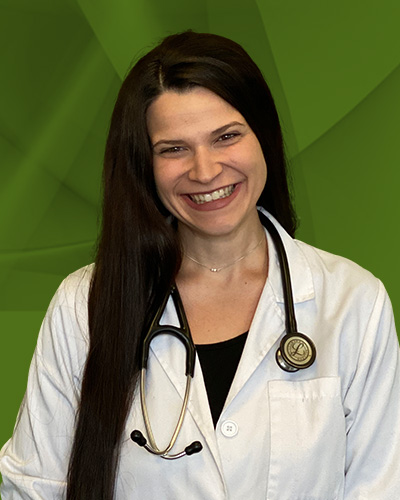 Alicia McNary, FNP-C
---
Alicia McNary, FNP-C is a Family Nurse Practitioner from Brown City, MI.  She obtained her Bachelors of Science in Nursing in 2015 from the University of Michigan - Flint, and her commitment to advocate for healthcare and wellness promotion led her to pursue a Masters of Science in Nursing from Chamberlain University in 2019.  Alicia previously worked as an Intensive Care Unit RN with experience in both emergency medicine and trauma. She is board certified by the American Academy of Nurse Practitioners and is licensed to practice in the State of Michigan. She enjoys caring for patients and families of all ages, focusing on wellness promotion, preventative care, as well as acute and chronic illness management.  Alicia, her husband, and two daughters reside on a beef farm in Imlay City, MI and are active participants in their local 4H community. She enjoys being active outdoors, camping, gardening, cooking, and spending time with her family and friends.
---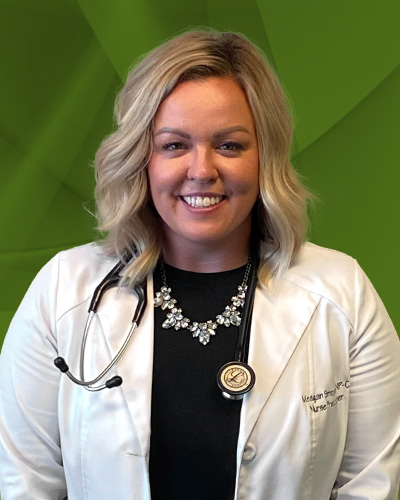 Meagan Smoyer, FNP-C
---
Meagan earned her bachelors in nursing from Ferris State University. She has been a registered nurse for over ten years working in pediatric emergency, outpatient endoscopy, and on a medical-surgical floor. She earned her master's degree in nursing from Simmons College in Boston, Massachusetts in 2018 and became certified as a Family Nurse Practitioner. She was working as a Nurse Practitioner at a physical medicine and rehabilitation clinic before joining the team at Lighthouse Medicine. She places an emphasis on patient education and prevention for all ages. Meagan enjoys spending time with her husband, family, friends and has a passion for animals, traveling, camping and cooking. She is excited to provide care to the patient's in our community and clinic.
---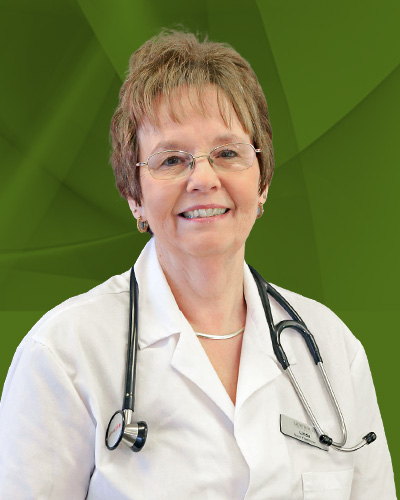 Linda Esch, FNP-BC
---
Linda Esch is a Fort Gratiot native, graduating from Port Huron Northern High School. She pursued a career in nursing, and obtained her Masters of Science in Nursing from Saginaw Valley State University in 1999. She holds national certification as a Family Nurse Practitioner. She lived in, and was employed as a Nurse and Nurse Practitioner in the West Branch, Michigan area for 30 years. Her experience includes various hospital departments, home health, urgent care, and family practice office care. In 2007, Linda returned to the Blue Water area to be near family and friends and has continued her medical career here. Linda provided direct patient care at Lighthouse Family Medicine for over five years until she retired in 2018. She is still a valued member of the clinical team, working with our providers to review clinical documentation. Linda is happy to be back in her hometown, and supports community and local church activities. She enjoys the outdoors, gardening, zip lining, biking, and mining.
---